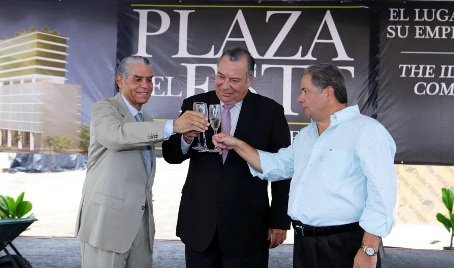 Empresas Bern & Grupo Corporativo Pérez joins forces to develop an Office Complex in Costa del Este; having as a result Plaza del Este, a unique space in its own class, designed to host world-class corporations seeking excellence and a exclusive location.
Rodolfo E. Icaza C., President of GCP mentioned that "Plaza del Este demonstrates the expansion and diversification of the group, as well as the commitment with the country, staff and customers".  At the same time mentioned that this strategic partnership with Empresas Bern, is based on the coincidence of the highest corporate standards of both groups.
The project has spacious floor plans build to satisfy the needs of each client, allowing them to reduce investment in sporadic use spaces.  Plaza del Este, also provides extensive lobbies with information and control areas, a central plaza, open terrace and access to parks.  This project is being built with the highest standards to support environmental sustainability and seeks the LEED Pre-Certification granted by the US Green Building Council.
Mr. Herman Bern, President of Empresas Bern, also highlighted the relevance of the project, mentioning that "Plaza del Este will be a one of a kind space, modern, efficient, safe and environmentally friendly, designed to house world-class corporations who seek for excellence".  And hence the importance of this strategic partnership, between two large businesses groups, a leader in the residential, commercial and hotel industry; and another leader in the automotive industry.